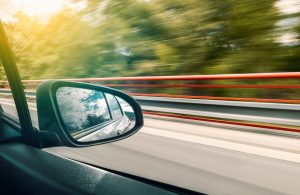 Let's talk about blind spots, but not the ones on the road. Today we're talking about the blind spot of pride. Pride is easy to see in other people, and we can all think of an example of an arrogant or prideful person who crossed our path in the past. You may have heard someone glorifying their abilities and accomplishments with their own words. Or you may have witnessed a very wealthy person speak about their material possessions as the result of their hard work and success. Seeing our own pride is near impossible without some help.
Where Are Your Blind Spots?
It's usually a turn-off when you encounter a bold and prideful person, but have you ever considered the idea that you too may suffer from a pride problem?
If you are shaking your head as you read this, saying to yourself, I am definitely not full of pride. I actually lean more toward insecurity than pride. You may be just like me. I was sitting in church one day listening to a message on pride, tuning most of it out because it did not seem to pertain to me. Then I was struck with the convincing truth that I too had a pride problem. You can check out the Message Here. It snuck into my life as a "blind spot." A blind spot, by definition, is just as it sounds. It's an area where a person's view is obstructed. In the area of pride, this simply means that you are unaware of your own sin of pride. 
For the arrogant professional athlete boasting to the media about his skill, the problem of pride is obvious. But have you ever failed to seek advice because you thought you already knew the answers? Have you ever sought out the advice that the world offers rather than seeking God's truth because you place a higher value on what others think? Then you may have a pride problem.
How To Identify Pride
Some may call them problems or blind spots, but as Rachelle Ferguson pointed out in her message, How To Change When The Hits Keep Coming, it's really called pride. Pride shows up in two ways
We think we know when we really don't.

We take credit for God's work in our lives.
I have been guilty of seeking the advice and approval of my friends and family before God when I have had a big problem. I believe the lie that the problem is mine to solve, and seeking God's wisdom is, sadly, sometimes the last thing I do.
If I'm being really honest, when I am upset, confused, worried, or offended I will even seek the comfort and advice of the people in my life that I know will agree with me rather than the advice of those I respect, because it is easier. 
Joyce Meyer has a really cheesy saying, but it is so true that it has stuck in my brain for many years. She says, "before you go to the phone, go to the throne." I know! Silly, but oh so true. When I am tempted to call a friend for some unhealthy conversation, I think of how true this statement is. Have I gone to God with this problem? If not, why? Is it because I don't really want wisdom, I just want someone to agree with me that I am right? Ouch, that's pride. 
It says in Proverbs 11:2
"When pride comes, then comes disgrace, but with humility comes wisdom." If you are truly seeking wisdom, then seek God."
Proverbs 16:5 says
"The Lord detests all the proud of heart. Be sure of this: they will not go unpunished."
I know that sounds aggressive, but here is the point that must not be missed! God does not hate the sin of pride just because it's unbecoming or arrogant. He detests pride because PRIDE IS A HINDRANCE TO SEEKING GOD.
Where Do You Look?
If you are acting in pride, you are looking inward or outward but not upward. God wants you to lean on and trust in Him in all things. This does not mean trust Him with the big things and micromanage the small things yourself. I was guilty of this myself.
When my son was very sick, I found it easy to turn everything over to God. Cancer seemed so much bigger than me. I couldn't figure it out, plan through it, or fix it. I instantly surrendered it to God. However, the smaller things seemed to cause me more stress and heartache, if you can imagine that. I believe the reason is that I decided I could be in control of the smaller things.
God wants to be on the throne of your life. Pride wants to put you on the throne of your life. So spend some time reflecting, and if you find you spend your days constantly striving to make your own life better rather than focusing on the hope God has for you, you may have a blind spot, better known as pride.
If you find yourself in this place, there is hope. God will help you reveal your blind spots.
James 4:6-7 says
"But he gives us more GRACE. That is why scripture says: 'God opposes the proud but shows favor to the humble.' Submit yourselves, then, to God. Resist the devil and he will flee from you. Come near to God and he will come near to you. Wash your hands, you sinners, and purify your hearts, you double-minded."