Thanks for taking the time to check out our podcast! Another Great Story is a place to tell stories. It's a podcast to equip and encourage you to experience life change as we share incredible stories of God working.
Real people who have had real-life experiences and those are things we want to share. Some of these stories might be funny while others might be serious. In every story, we know God has been at work and will continue to be at work. We just hope in sharing these authentic stories that they help you navigate your relationship with God in your own story.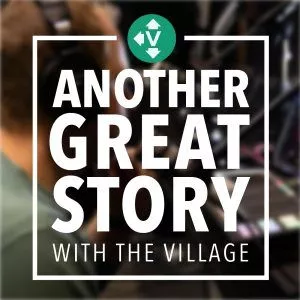 Subscribe – Share – Leave A Review
We recommend subscribing so that you can automatically receive each new episode.
Like what you hear? Share with a friend and leave a review. When you subscribe, share, and leave a review, it helps others find the podcast too. You can find us on your favorite podcast app!
If you live in the Minooka / Channahon, Coal City, or Seneca, Illinois area, we would love for you to stop by our Sunday services at 9 and 10:30 AM in Minooka, Coal City, and online. Seneca Sunday services are at 9:30 AM.
You'll find inspiring music, encouraging messages, a fun place for your kids called Kid Village, and Pulse for your students through high school.
We also think church is more than just on Sunday and encourage you to stay connected during the week. You can do that with groups that meet different days, times, and locations throughout the week.
There's a place for you at The Village!