Thanks For Stopping By!
WELCOME! Life Change, Life Growth, Life Purpose is what we want for you. Build a relationship with Jesus while serving others. It's that simple.
Do you need time and a safe space to refresh, decompress, and get ready for another tough week? Us too. Our world can be tough, we get it and want to help support, encourage and equip you as you do life. Helping people experience Life Change, Life Growth, and Life Purpose is our mission, it's why we exist.
You may have been raised Catholic, Methodist, Lutheran, Protestant, something else, or nothing at all. The Village is a non-denominational church, which means we welcome all backgrounds.
Maybe you have a personal relationship with Jesus, or maybe you don't. Maybe you've grown up in the church, but now are having some doubts. Or maybe you've never been to church, or don't believe in God, but are curious. That's okay, we would love to meet you!
Here at The Village, we welcome everyone with no judgement, no matter what your history is. We're not worried about your past, we care about your future! We are here to help you take that first or next step, wherever you are in your faith journey. There's a place for you!
If you're new to The Village, here's a sneak peek into what you can expect at The Village. We are one church with multiple locations, Minooka, Seneca, Coal City and Online.
Choose The Best Experience For You
Online
Online from live.thevillagechristianchurch.com, YouTube, Facebook, Roku, AppleTV and Amazon FireTV LIVE at 9:00 and 10:30 AM Central Time or on-demand. Church anytime, anywhere.
In-Person
Minooka Campus, 8965 South Bell Road, Minooka, IL, 9:00 and 10:30 AM
Coal City Campus, 965 E. Division Street, Coal City, IL , 9:00 and 10:30 AM
Seneca Campus, 104 North Main Street, Seneca, IL, 9:30 AM
Check Things Out Before You Stop By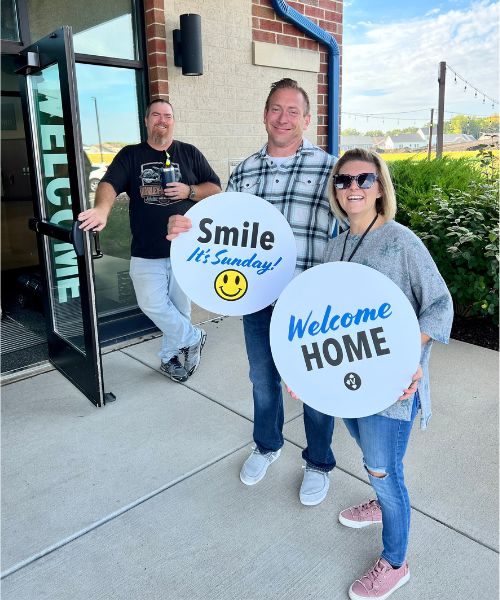 It can be scary to go to a new place. We want you to feel comfortable, so check out some frequently asked questions.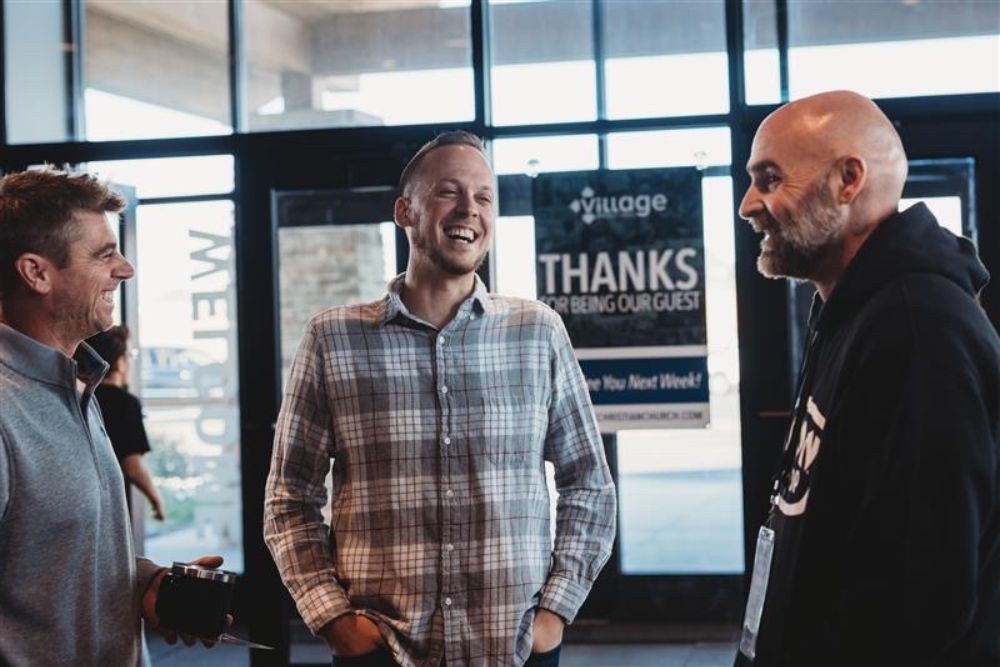 Our church isn't a building, but a group of people that make mistakes, love Jesus and each other. We look at the Bible, figure out how it applies to life, and do the best that we can. If you're dealing with parenting a difficult child, a job layoff, depression, addiction, a diagnosis, or a tough circumstance you can look to the Bible for guidance, and we're here to help. 
Our mission is to help people experience life change, life growth, and life purpose. We want to encourage and equip you to build a personal relationship with Jesus, so you can then do the same for others.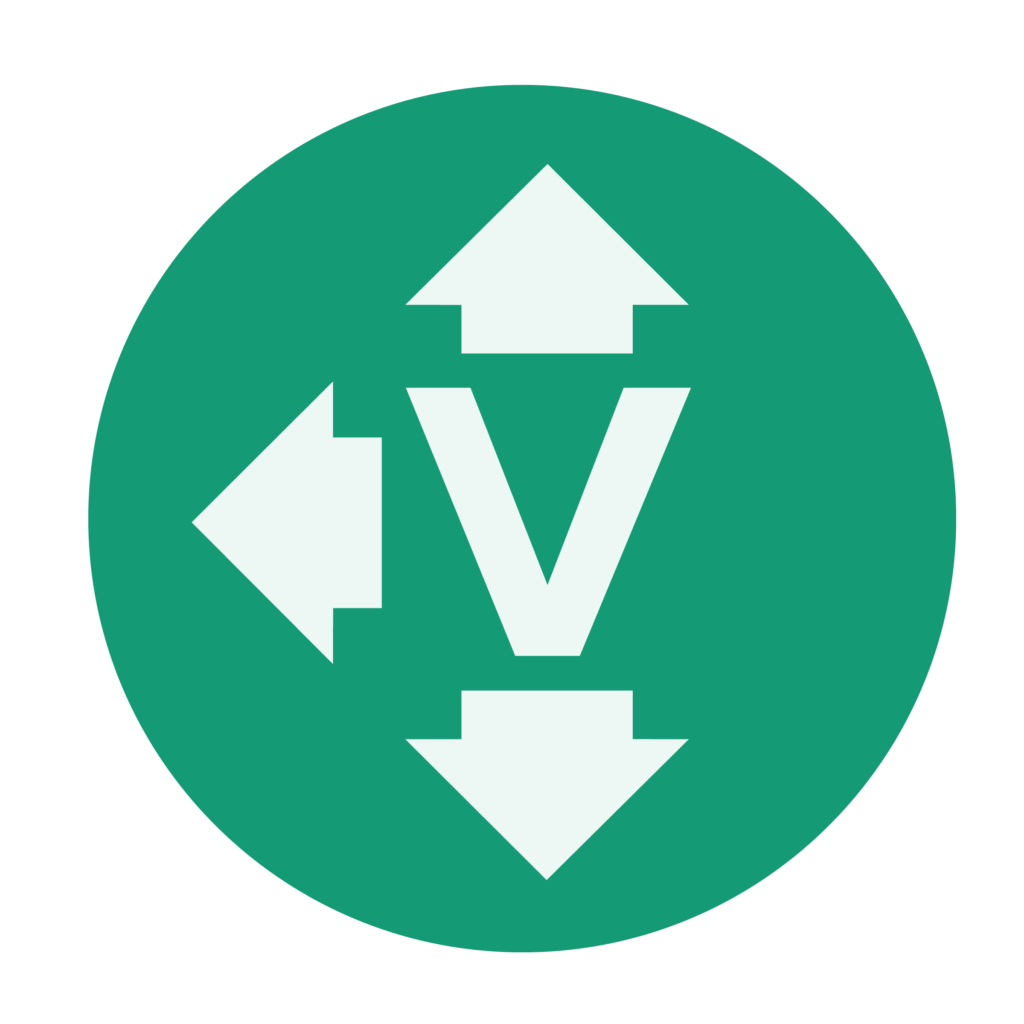 The 3 arrows depict our mission points:
Life Change (up): Looking up to God to experience life changed by God and telling others about Jesus.
Life Growth (side): Reaching out to others to connect and experience community.
Life Purpose (down): You were designed on purpose with intention by God.
We are committed to serving God and carrying out the mission of The Village – to help people experience Life Change, Life Growth, and Life Purpose. This is done by remaining focused on our Core Values:
THE BIBLE IS OUR GUIDE
We don't get caught up in rules & regulations, but allow scripture to lead the way.
EVERYBODY GROWS
We equip our community with opportunities for you to build relationships with God and others.
EVERYBODY SERVES
We provide serving opportunities so that you can use the gifts that God has uniquely given to you. 
NO BORING HERE
We have fun learning about God, growing in our faith, and serving with people we love.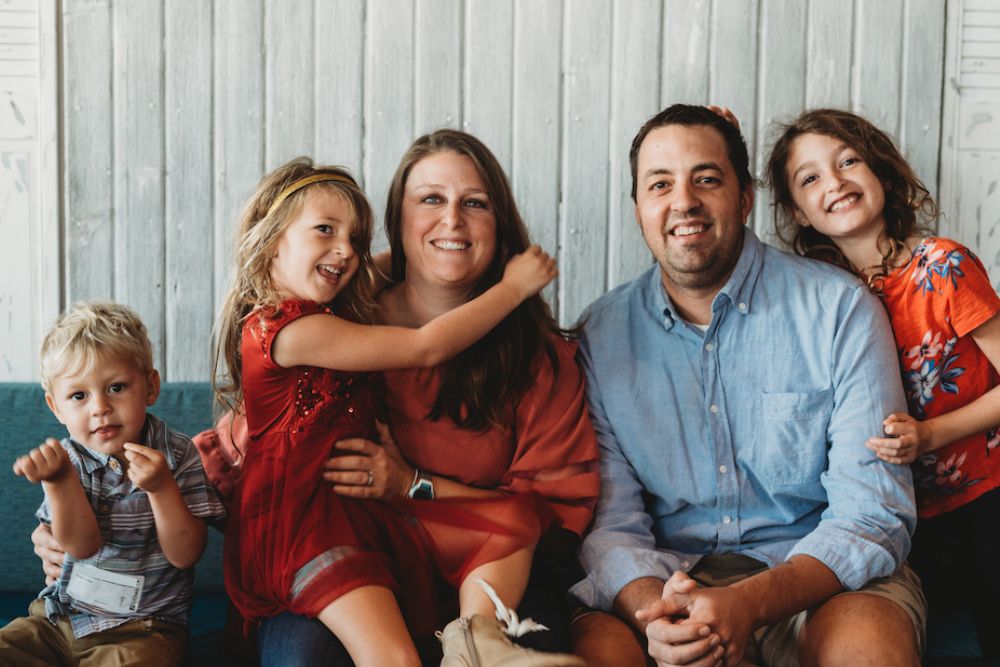 The Village is a place of community, a place you want to go to, a place where it's exciting to worship and learn more about God!
If you have kids, Kid Village is so much fun that the littles can't wait to come to church! If you have tweens or teenagers, our Pulse Student Group has fun too! The best part is they're also learning about Jesus!
Here's what one of our church family shared…
Start at Step 1 or Choose Your Own Path
If you're new, then your first step is to meet the Pastor. You can get answers to your questions and get to know us. 
Let's connect at church or contact us during the week: 
Charlie Pierce Minooka 
Sarah O'Sullivan Seneca
Mike Strunga Coal City 
Step 2: Connect In A Lifegroup
We encourage you to find and connect in a Lifegroup as soon as possible. Meet new friends, experience community and grow deeper in your faith and relationship with Jesus. 
Step 3: find a place to serve
Did you know that God has uniquely created you and given you gifts, and it's important to use those gifts to serve others? Everybody serves here at The Village! We are here to help you experience your Life Purpose and find the place to make that happen!